Bioplastic opens up new areas for French agriculture
According to French television news channel "France 24 hours" on February 27, citing AFP, bioplastics found a foothold in French agriculture and provided a high-tech sales market for producers.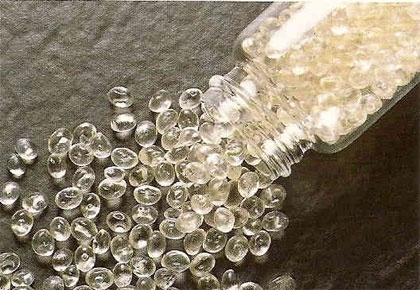 The picture shows the bioplastic data map
It is reported that bioplastics are made from starch in corn, wheat and potatoes. Like petroleum-made plastics, bioplastics can be made into various forms of products. However, this plastic has the advantage that it can be completely biodegraded and used as a fertilizer.
Arnaud Rondeau, a French agricultural producer, joked that people could find a gold mine in their plants, which brought a bit of excitement to agricultural producers. In addition, Ruhe, a senior French grain association, said that although bio-plastics are still emerging markets in the agricultural sector, their production has increased significantly over the past decade.
It is reported that this new market of bio-plastics has enriched farmers' product production. On the other hand, Long said that it is absolutely impossible for him to abandon his traditional customers. He pointed out that livestock feed is the primary market for agricultural producers and people have no right to change their main market direction. France produced 63 million tons of agricultural products in 2012, compared with the amount of grain used to make bioplastics.
Luhe said that although people are also studying the use of algae, wood or organic fertilizers to make bioplastics, cereals are currently more advantageous because they are the most easily disintegrated and are the easiest to collect and store.
A senior bioplastics club in France, Boissudi, said that 2/3 of Europe's starch is produced in France, so the production of bio-plastics is a good opportunity for France. He also pointed out that France is Europe's country with the most relevant practitioners in this field, such as agricultural producers, starch and resin producers.
According to reports, the current revenue from the production of bioplastics is relatively meager, which is 24 million euros (about 211 million yuan) per year. In order to achieve its own development, the bioplastics field has been unable to wait for the introduction of relevant laws and regulations to impose a tax of 10 euros per kilogram on non-biodegradable plastic bags.
Measuring Tape MID certification; ISO9001 certification;
1. Measuring tape Case: First-grade new ABS plastics: Bright, odorless.
2. Graduation: British-metric; metric; British; Luban etc.
3.Measuring tape Blade: steel,white and yellow colors,matt and shiny or chromed
4. Hook: Magnetic or common (it depends on custom request) the hook is flexible
5. Rivets: 3or 2 rivets hook reduces risk of breakage; the rivet can be fastened to a proper

position
6. Belt: The belt is made with Nylon for more handy and durable
7. Measuring tape Size: 1m/3ft-10m/33ft


Free Samples

We will offer you free sample within 5 working days after your comfirmation of details and

invoice.


Quality Guarantee
We will check the products strictly one by one before arranging the shippment.
Price Discount
We will give discount to the long term business partners or the big order.
Customized Service
We can offer the OEM service based on clients' requirements such as the color,label or the

package,etc.



Measuring Tape
*Impact resistant rubberized case;
*Heat-treated spring provides long life and smooth blade rewind;
*Strong belt clip

Product Details

Product Name Rubber coat measure tape
Item No. LJ-SMTR-13
Material New ABS +TPR + Steel tape
Color As the picture show, any color can be customized
Length 3m-7.5m
MOQ 3600 pcs
Logo According to customer requirements
OEM/ODM Customized design is welcomed. Logo printing available
Package According to customer requirements
Production Time As usual, about 15-20 days
Payment term
T/T; Western Union, Paypal, L/C
30% payment in advance,70% balance before shipment

Personalized Tape Measure,Rubber Covering Measure Tape,Tape Measure 8 Inches,Auto Stop Measuring Tape
Oukelong Tools Co.,Ltd , https://www.oukelongtape.com